Surgeons and specially-trained staff at Evansville Surgical Associates treat all aspects of benign breast conditions and breast cancers at both the Deaconess and St. Vincent's Breast Centers.  Digital mammography, diagnostic ultrasound, and breast MRI are available, as are stereotactic and ultrasound guided needle biopsy capabilities. Our surgeons and staff work closely with medical oncologists, radiation oncologists and plastic surgeons to ensure that each patient receives the best possible care.
Breast Surgery procedures include:
Lumpectomy – Lumpectomy is a surgical procedure which removes tissue (a benign lump or breast cancer) from the breast. It is often called a "breast preserving" or "breast sparing" procedure because only the abnormal tissue is removed.  The breast retains its normal shape.
Partial Breast Irradiation– The technique involves inserting radioactive material into or near the breast after a lumpectomy for breast cancer using temporary implantable devices (MammoSite or SAVI). The materials slowly release radiation, destroying any remaining cancer cells. Eventually, the material stops being radioactive and normal, healthy cells begin to replace the dead cancer cells.  This is an alternative treatment to whole breast radiation after lumpectomy for cancer, and is suitable for some patients but not all patients.
Mastectomy – Mastectomy is surgery which removes the entire breast in order to treat or prevent breast cancer. There are a variety of types of mastectomy, such as skin sparing and nipple/areola sparing, and the type the surgeon recommends depends on factors such as size, location, and behavior of the tumor and whether or not the patient intends to undergo reconstructive surgery.
Sentinel Node Mapping – Sentinel lymph node mapping is a method of determining whether cancer has spread beyond the primary tumor into the lymph system. This procedure eliminates the need for a complete axillary dissection (removal of all the nodes under the arm) in most patients.
Breast Reconstruction – For those patient requiring mastectomy for breast cancer or cancer prevention our breast surgeons collaborate with plastic surgeons to provide immediate breast reconstruction at the time of mastectomy in most cases.  Patients meet with the plastic surgeon prior to surgery to discuss reconstruction options.
Breast Navigators – From the time of diagnosis of breast cancer, our three breast navigators personally guide our patients through every step of the treatment process.  They are always available to answer any questions about surgery, consultations, mammograms, financial concerns, and long term follow-ups.
High Risk Patients – Some patients are considered "high risk" for breast cancer based on their family history, early age at diagnosis, and previous abnormal breast biopsies. We identify these patients using questionnaires at the time of initial consultation.  These patients are counseled about their risks and specific recommendations are made about treatment, prevention strategies and long-term follow-up.
Gynecomastia

– A surgical correction for over-developed or enlarged breasts in men.
Ready to take the next step?
Request an appointment!
Breast cancer is a life-changing event. If you receive a diagnosis, you want to know that you have a team of experts on your side. At Evansville Surgical Associates, we do everything we can to
Read More »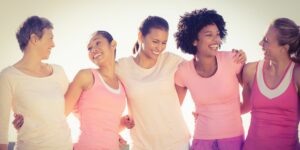 The risk of developing breast cancer can vary from person to person. However, there are some common factors that can increase your risk and a few that might surprise you. But more important than knowing
Read More »
Surgical technology is always advancing to provide patients with more options, less pain, and less stress. At Evansville Surgical Associates, we strive to be early adopters of new technology in order to provide the highest
Read More »